Filter by Category
Kids and Kompany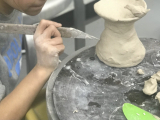 Thursday Kids Clay Explorations Ages 9-16, October 2023
with Debbie Englund

Oct 5, 2023 at 3:45 pm

, runs for 4 weeks
Upon registration you will be placed in a waiting list. If we have sufficient kids for the class we will process the registration.
This class will introduce students aged 9-16 to the wonderful potential of clay. We will teach many different handbuilding techniques for creating and finishing projects in clay.
Students will dive into their imaginations to make fun, seasonal themed pottery and pieces that can be used and treasured. The last session of class will give students a quick introduction to wheel work.
Clay will be provided, studio glazes and firing. Wear old clothes, and bring an old towel. Bring a snack and invite a friend to register too!
Classes may be cancelled at short notice if the minimum attendance is not achieved. Your money will be refunded should this happen. Please help us spread the word to other friends to get the class to run.. 
Please refer to our main website www.Clayworxstudios.com for our policies. 
Pumpkin Workshop
with Lynn Flyer

Oct 7, 2023 at 10 am
As part of our  "Kids & Kompany in Clay" series, we invite parents/caregivers to join their kiddo(s) in the clay studio.
Great for bringing all the family together in an atmosphere of creativity and fun.  Come and play in the mud and explore pottery making. This class is designed to introduce you to clay by making a pinch pot pumpkin.
Everyone will make a hand built pumpkin project that will be fired and we will glaze for you to pick up when it's ready.
Ages 7 and up. Children must be accompanied by an adult taking the class. 
Please check out our website www.clayworxstudios.com for our policies.